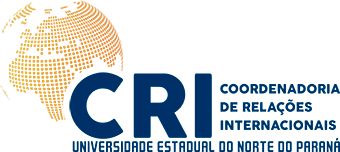 The International Relations Office at UENP assists the university community of the campuses in Cornélio Procópio, Bandeirantes e Jacarezinho concerning issues about international relations.
Therefore, it articulates and supports cultural, scientific and technological activities between UENP and foreign institutions; it supports student, faculty and staff international mobility; it supports the president's office about formulation of international relations policies; it sets relations with the international relations structures of other universities or research institutes; it proposes partnerships with universities and international research institutions; it proposes international relations of UENP with foreign and similar universities; it coordinates the University interaction with the public and private institutions, aiming the internationalization process of UENP's activities, besides having connections with supporting agencies for the development of international projects.
UENP has partnerships in Argentina, Canada, Chile, Colombia, South Korea, The United States of America, Italy, Mexico, Paraguay, Portugal, Ukraine and Uruguay. Furthermore, UENP is associated with Brazilian Association of Rectors from State and Municipal Universities- ABRUEM, from the International Cooperation Group of Brazilian Universities - GCUB and from Brazilian Association of International Education - FAUBAI, it is part of the Zicosur Network and it is partner of Santander Universidades.
CRI Team
 

Head of International Relations

Dr. Fábio Henrique Rosa Senefonte

E-mail: This email address is being protected from spambots. You need JavaScript enabled to view it.

Lattes: 

https://lattes.cnpq.br/1897476249005659

 
JACAREZINHO OFFICE
 - Telephone:
+55 43 3511-3200 - Reitoria
- Office Working Hours:
Monday to Friday: from 08h to 12h00 p.m. and from das 1 p.m. to 5 p.m.
International Assistant

Carolina Silva Martoni

E-mail: This email address is being protected from spambots. You need JavaScript enabled to view it.

 

International Assistant (internationalization at home)

Prof. Ma. Fernanda de Cássia Miranda

E-mail: This email address is being protected from spambots. You need JavaScript enabled to view it.

 

National and International Mobility Advisor

 

Francisco Schulhan

E-mail: This email address is being protected from spambots. You need JavaScript enabled to view it.

 

Secretary

Maria Eduarda Alencar Romano

E-mail: This email address is being protected from spambots. You need JavaScript enabled to view it.

 

 

Financial Secretary

Ana Julia Correa Vilella

E-mail: This email address is being protected from spambots. You need JavaScript enabled to view it.

 
---
CORNÉLIO PROCÓPIO OFFICE
Secretary

Danielly Bruna Pereira Ribeiro


E-mail: This email address is being protected from spambots. You need JavaScript enabled to view it.

 
- Telephone:
+55 43 3520-1762 - Núcleo de Línguas (NULIN) 
 Office Working Hours:
Monday to Friday: from 09:30 a.m. to 3:30 p.m